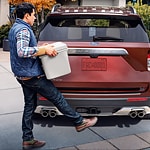 Ford Explorer has many fans among drivers and our Malloy Ford Winchester team. We get it. This three-row SUV enjoys immense popularity thanks to its roomy seating, in-cabin amenities and efficiency. Explorer's performance features reflect the highest standards and trendsetting engineering technology. Here are two features to illustrate.
A Thinking Person's SUV
Ford Explorer combines brains and brawn with its Intelligent 4WD. Intelligent 4WD maximizes a combo of premium braking systems and Explorer's powertrain for optimal traction on Winchester streets and open roads. Plus, a special Terrain Management System further enhances Explorer's handling with selectable drive modes to suit your driving needs and driving scenario.
Safer Trips Downhill
Navigating Ford Explorer down hills just got safer. Explorer's Hill Descent Control maintains a preset speed for you, applying anti-lock brakes and a special traction control technology. With braking and traction in the bag, you can better focus on steering as you tow and haul into the home stretch.
Discover more of Ford Explorer's performance features with a test drive at our dealership today. We can't wait to meet you.