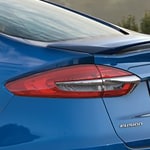 When you want to buy a car that offers innovative designs and ample cargo space, you may not automatically think of a four-door sedan. However, the new Ford Fusion is a popular midsize design that can exceed your expectations with its impressive features.
To begin, it offers up to 16 cubic feet of storage space in its spacious and deep trunk. You have plenty of room for putting bags of groceries as well as sporting gear like golf clubs, bowling balls and duffel bags. The new Ford Fusion also comes with a panoramic moon roof that is ideal for opening up and letting in some fresh air and light during rides. You can keep the inside of your car feeling spacious and bright during any trip.
The best way to find out all that the new Ford Fusion has in store for you today is by taking one out for a test drive.