Malloy Auto Group Sponsors the Christ Child Society's Gala Program as Part of Annual Partnership
The Malloy Auto Group is proud to support the Christ Child Society, a nonprofit organization serving children in the DC area.The organization seeks to meet the educational and emotional needs of children in any shape and form.

Malloy has been proudly supporting the CCS for three years and intends to continue this partnership. To learn more about the Christ Child Society, visit
www.christchilddc.org.
Malloy Ford Wraps Up Food Drive Successfully!

Malloy Ford of Winchester successfully wrapped up their recently held Food Drive to benefit the Blue Ridge Food Bank. Collecting canned and boxed items from both customers and employees, they filled up over four boxes! On behalf of Malloy Ford, thank you to everyone that participated in the food drive. It is great to know a difference was made during this time of giving!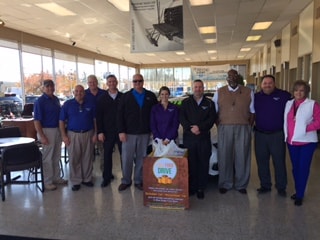 Malloy Ford Holds Food Drive to Benefit the Blue Ride Food Bank

Malloy Ford of Winchester is teaming up with the Blue Ridge Food Bank in an effort to improve the community around us. From October 1st to November 1st, Malloy Ford will be collecting canned and boxed food items to donate to this fantastic cause. Blue Ridge Food Bank is the largest organization that works to alleviate hunger in western and central Virginia.



This food bank serves communities over 12,000 square miles, including Winchester, Waynesboro, Staunton, and Harrisonburg. Malloy Ford is proud to be pairing with one of the top food banks in Virginia to help feed and improve the community around us with our annual Fall Food Drive.


"Giving back to the community that serves us is a big part of our philosophy here at Malloy," says Colin Kelly, General Manager of Malloy Ford of Winchester. "We hope this year we can make a difference and that our community will come together to help make this possible."


In order to donate, please visit our Malloy dealership in Winchester. Even if you're not buying a vehicle, you can still participate in our Fall Food Drive and aid our community. We hope to see our community come out for this great event and help us make a difference.